StubEz™ (Patent Pending)
"Underground Rough-Ins made with Ez"
Ez to save an Hour's labor or more
Ez to lay out straight & professional
Ez bend down tabs to Identify openings 'as needed'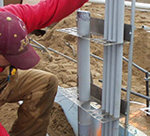 The first standard for simplifying underground stub-ups, is STOP wasting time using make shift racks for supporting conduits. This template is designed to keep it simple & make it fast. Conduits are racked uniformly, one after another and positions are easily transferred in seconds onto electrical panel for needed knockouts.
Step #1:
Drive vertical supporting means for mounting two StubEz's™ Mount first one within 2" of finished floor. This StubEz™ could be used for final support of conduits. Second StuEz™ should be mounted 3-6" higher up in order to keep conduits looking straight and professional. Note: the StubEz™ is designed for supporting conduits from wall by ¾ of an inch.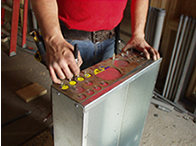 Step #2:
With your StubEz™ mounted as shown, bend down taps in openings "as needed" in order to install your conduits. Use plastic ties or some other clamping means in order to strap the conduits against the bend down tabs. The SubEz™ is designed to accept (16) ¾" conduits, (2) 1" conduits, (2) 1 ¼" conduits. Plus it has two larger openings in the middle for installing a combination of main feeder conduit sizes.
Step #3:
When ready to install your panel remove the top StubEz™. Place it onto the panel as shown and simply begin marking out needed conduits. Within seconds your done and ready to start your knockout process.
*2 StubEz™ per rough-in application recommended.