Wholesalers for Local Distribution
Below is a list of the wholesalers that the RnD Products line can be purchased from. States in blue on the map have wholesalers that carry RnD Products' timesaving products. Click on a state of interest to see the locations in that state.
If you would like to become a wholesaler of these products, please contact us at (952) 432-4817 or by email.
Please Note: Not all wholesalers carry all of our products. If they do not, or if the listed wholesaler is out of your area, please call RnDProducts at (952) 432-4817.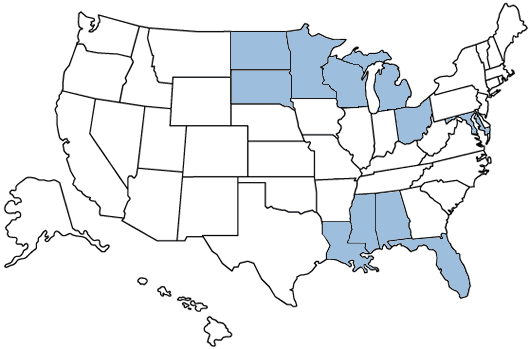 Sequel Electrical Supply
Locations in:
Anniston
Birmingham
Dothan
Mobile
Tuscaloosa
www.sequelelectricalsupply.com
Sequel Electrical Supply
Locations in:
Fort Walton
Pensacola
www.sequelelectricalsupply.com
Sequel Electrical Supply
Locations in:
Alexandria
www.sequelelectricalsupply.com
United Rentals
Locations in:
Frederick - 6810 English Muffin Way
www.ur.com
Viking Electric Supply
Locations in:
Blaine
Brainard
Burnsville
Duluth
Grand Rapids
Mankato
Minneapolis
Plymouth
Rochester
St. Paul
Woodbury
www.vikingelectric.com
Sequel Electrical Supply
Locations in:
Cleveland
Greenville
Greenwood
Jackson
Meridian
Oxford
www.sequelelectricalsupply.com
Wesco Dist
Locations in:
Fargo
www.wesco.com
Mars Electric
Locations in:
Chardon
Macedonia
Medina
Streetsboro
Warrensville Hts.
Westlake
Willoughby
www.mars-electric.com
JH Larson
Locations in:
Sioux Falls
Watertown
www.jhlarson.com
Viking Electric Supply
Locations in:
Eau Claire
Green Bay
LaCrosse
Oshkosh
Rhinelander
Rice Lake
St. Croix Falls
Wausau
www.vikingelectric.com
JH Larson
Locations in:
Eau Claire
Hayward
Hudson
www.jhlarson.com
Werner Electric
Locations in:
Appleton
Fond Du Lac
Green Bay
Iron Mountain
Janesville
Kenosha
Madison
Neenah
Pewaukee
Stevens Point
Wausau
www.wernerelectric.com