Commercial LidEz™ (Patent Pending)
Stop the sheet rockers' zip drill from nicking your wires
Stop the taper from filling your box with mud
Stop the painter from painting your wires
Stop these problems & save time with this cheap, simple product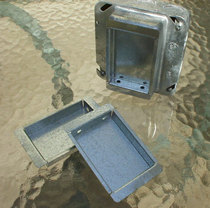 Designed to fit
Raco and Steel City mud rings
LidEz™ are reusable, galvanized steel construction covers that give the electricians, wire and box protection, eliminating unnecessary time spent to undo these damages. The LidEz™ single gang commercial cover is now ready for the box and tooling is underway for commercial and residential multi size covers.
The Commercial LidEz™ was designed to fit Raco and Steel City mud rings.
Take control and eliminate the frustrations imposed by other trades.