AJ Speedset™

Hassle-free anchor bolt installation for setting outdoor light poles.
AJ Speedset is an adjustable jig that creates a simplified, time saving way to install ¾", 1" or 1¼" anchor bolts in concrete for area lighting.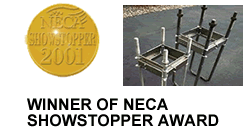 Reduce Cost
Ensure Precision Quality Installation, Time After Time
No More Plywood
Read more on the AJ Speedset™.
---
LidEz™ - (Patent Pending)
Functions:
Stop the sheet rockers' zip drill from nicking your wires
Stop the taper from filling your box with mud
Stop the painter from painting your wires
Stop these problems & save time with this cheap, simple product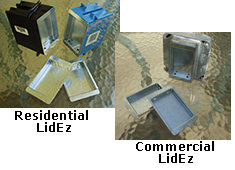 Read more on the Residential LidEz™ and Commercial LidEz™.
---
KnockOut-Templet™
(KO-Templet) - (Patent Pending)
Panel Board Layout Tool
Functions:
Home Run Templet for up to (11) ¾" EMT Connectors
Center Points for ½" thru 4" EMT
Visual Aid for Center Line and Outside Lines of ½" thru 4" EMT
Designed to place Center Line at appropriate positions. When using either ¾" or 1 ½" channel for strapping means.
Ruler
Read more on the KO-Templet™.
---
StubEz™ - (Patent Pending)

StubEz standardizes and simplifies underground stub-ups by racking conduits uniformly and making positions easily transferred onto electrical panel for knockouts.
StubEz Advantages:
Save an Hour or more in labor
Conduit is straight and professional
Accommodates (16) ¾", (2) 1",(2) 1 ¼" sizes of conduit
Accepts combination of main feeder conduit sizes with 2 larger openings
Easy bend down tabs to identify openings 'as needed'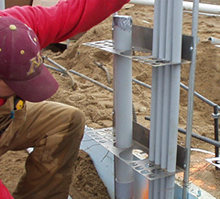 Read more on the StubEz™.